Terms of use
Report abuse
To report abuse read the following terms.
We treat every abuse very seriously. If you wish to report a copyright infringement, please give us sound arguments. Sound arguments MUST carry the following information (otherwise these will be ignored).
We kindly ask you to treat this request because Hitfile is working totally legally and with complete transparency. Every file of the system can be found on Hitfile servers through any possible internet resources. This fact can be very useful for the copyright holder as any file transmission can be tracked and we will be glad to help the copyright holder to protect his rights. We are ready for long-term cooperation with anybody who can help us locate dishonest usage of Site.
When filing a abuse, please tell us the following:
Identify yourself as either:

The owner of a copyrighted work(s), or
A person "authorized to act on behalf of the owner of an exclusive right that is allegedly infringed." Include a physical or electronic signature.

Identify the copyrighted work claimed to have been infringed.
Identify the User Content that is claimed to be infringing or to be the subject of the infringing activity and that is to be suspended or access to which is to be disabled, as well as information reasonably sufficient to permit Hitfile to locate the User Content. Providing URLs are required to help us locate the User Content.
Provide contact information that is reasonably sufficient to permit us to contact you, including your name, physical address, email address, phone number.
State that you have a good faith belief that use of the User Content in the manner complained of is not authorized by the copyright owner, its agents, or the law.
State that the information in the notification is accurate and under penalty of perjury the complaining party is authorized to act on behalf of the owner of an exclusive right that is allegedly infringed.
Requests will be processed much faster if you:
Let us know in which country the copyright infringement takes place
Use your official e-mail domain by requesting
Do not forget to attach a scanned document (stamped and signed) confirming the rights to the material or to work.
Do not forget to attach a claim that you send us by e-mail with a signature, such as a valid digital signature or a scanned physical signature
If you find the child pornography at our servers, please, immediately contact our support team (available 24/7).
Hitfile receives and processes requests and complaints from users on any dangerous content located at our servers.
A proper notification MUST contain the information above, or it may be IGNORED.
Abuse for files with violence, child-pornography, cruelty, national and religious dissension taking without this Terms and deleting immediatly!
To send an abuse, please click here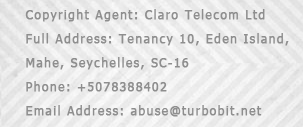 (Effective as of July 30, 2021)